Steven Seagal to Co-Host Bluestock
Steven Seagal is known
as an action movie star but he is also something of a blues aficionado. At this summer's Bluestock Seagal will not only perform with his band Thunderbox but also co-host the festival from the stage. The blues and jamband festival will also feature Gregg Allman, Buddy Guy, Elvin Bishop, Tommy Castro & The LRBR (ft. Joe Louis Walker, Rick Estrin, and Deanna Bogart), Trombone Shorty & Orleans Avenue, Tab Benoit, Ronnie Baker Brooks and Bruce Katz, among otherwers. The inaugural festival will take place from August 26-28 in Hunter, NY. The festival's daily schedule is now also available.

STEVEN SEAGAL & THUNDERBOX'S WORLD TOUR PHOTOS..
Music is the language of the divine.
It is one of the language that all people understand.
It is the one language that transcends
all political, racial and religious boundaries.
No matter how diverse or far apart our philosophies or cultures may be, through music we can heal the world.
Through music we can become enligtened.
I believe one can experience complate realization and liberation through sight and sound.
Steven Seagal

Don't consider Steven Seagal only as a tough guy in the action movies, besides Aikido and Movies he is also very good in music and he is indeed a good musician.
Many of his interviews he mentioned that music plays a good part in his life. He started to play the guitar in 1960. He says that he is influenced from the performances of Curtis Mayfield, Lightning Hopkins, Procol Harum, Jimi Hendrix, Albert King, BB King, Muddy Water and names like these.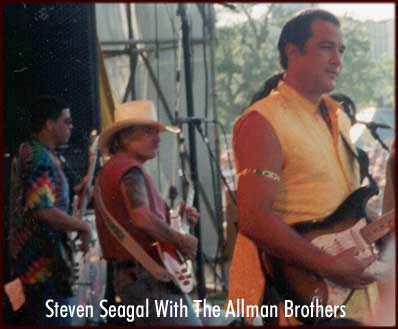 He played guitar together with James Burton, Vince Gill, Leon Russell, Taj Mahal, Ritchie Sambora, Delbert Maclinton and John Lennon. He even did some recordings in the studio with many of these artists.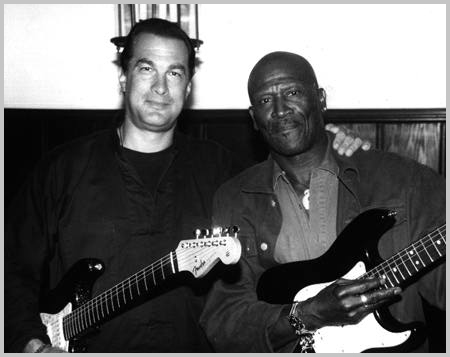 STEVEN SEAGAL & TAJ MAHAL
His love for music, and especially American Black Music, has grown together with his passion for the guitar, which he has been playing since the age of 14.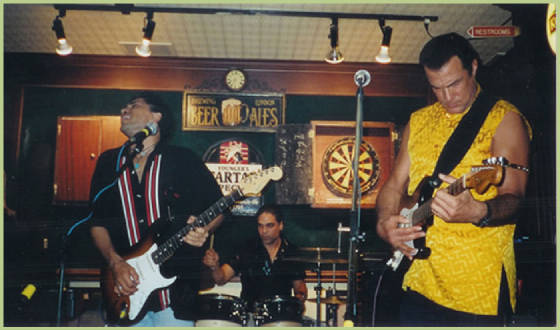 Also Steven Seagal always indicated that music plays a big part in his life. He finally collected his songs in an album.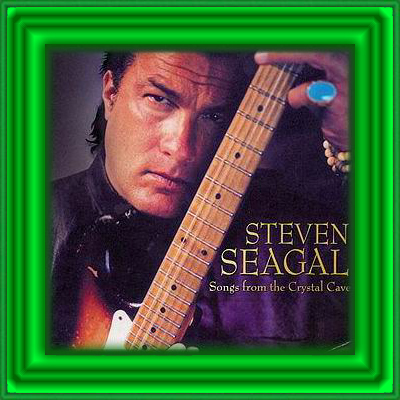 The album called "

Songs From the Crystal Cave

" is an important milestone in Steven Seagal's life and a precious collectors item for his fans.
Travelling so much and meeting so many people has strongly influenced his music. His faith in Buddhism : "Music is the language of the divine. (…) I believe one can experience complete realization and liberation though sight and sound." contrasts spectacularly with his actor roles, and brings Steven Seagal's album an emotional and delicate side.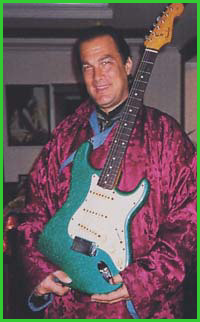 Steven Seagal prefers playing a Fender Stratocaster for electric; Martin Guitars for acoustic playing; owns quite a few different variations of them along with many other guitars in his collection..one of which belonged to Jimi Hendrix..Seagal has also been known to give away guitars to friends...

"Steven Seagal is one hell of a guitar player".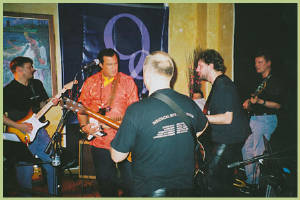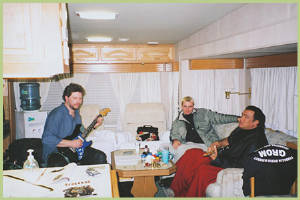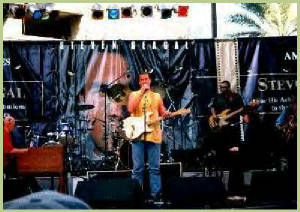 Steven Seagal Days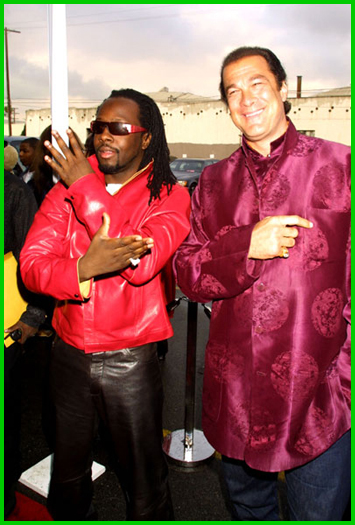 WyClef Jean & Steven Seagal - Soul Music Awards-2001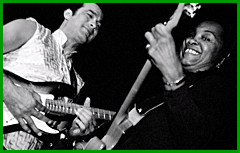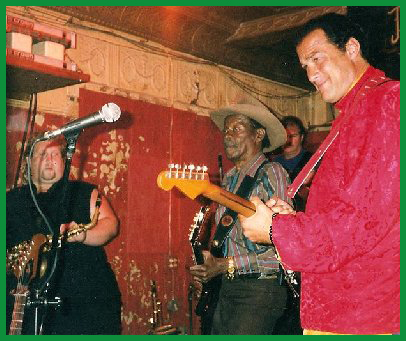 Steven Seagal & Gatemouth Brown - New Orleans
Steven Seagal with Big George Brock
Hubert Sumlin & Steven Seagal
Les paul and Friends in Concert at the Gibson Amphitheatre in Universal City - February 7, 2006